Welcome to EFR Mini Heelers!
We are an ethical Mini Blue Heeler breeder focused on using the considerable power all breeders have to ensure our Australian Cattle Dog puppies are healthy and a pleasure to own.
A Mini Blue Heeler is a smaller version of a full-size heeler. Blue Heelers, Red Heelers, and Queensland Heelers are all common names for Australian Cattle Dogs and we use the terms interchangeably on our site.
Breed standard for full-size Australian Cattle Dogs, measured to top of shoulder, are as follows: males are 18-20" tall, and females are 17-19".
Mini Blue Heelers measure anything under 17" and there is no weight limit.
The Blue Heeler is a breed of dog that is known for its intelligent, loyal, and energetic personality. These dogs are a popular choice for active owners who are looking for a companion to work alongside them on the farm, or to join them for outdoor activities and adventures as well as dog sports.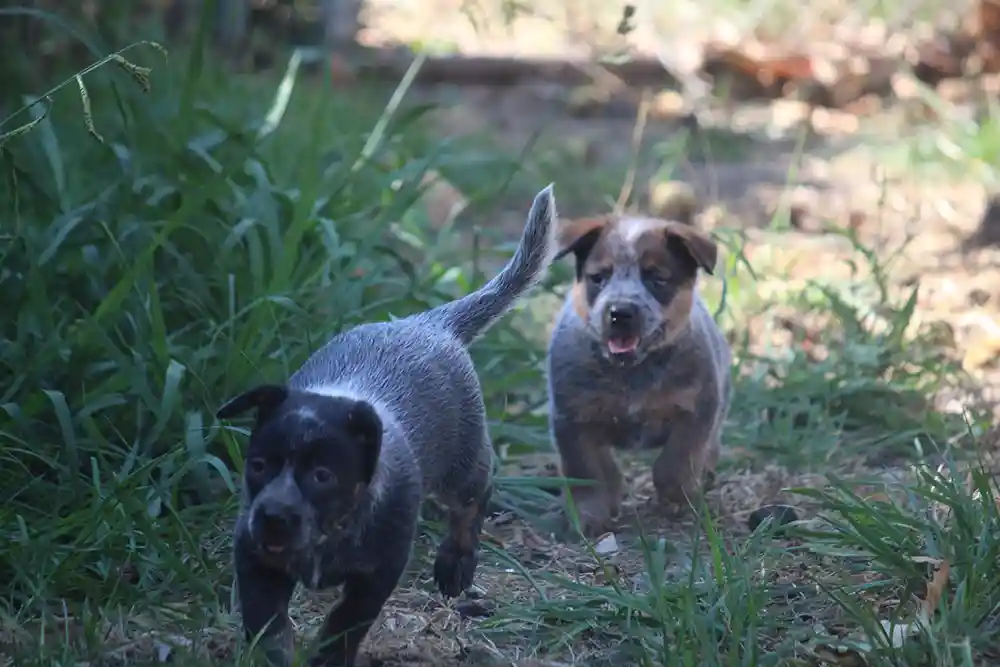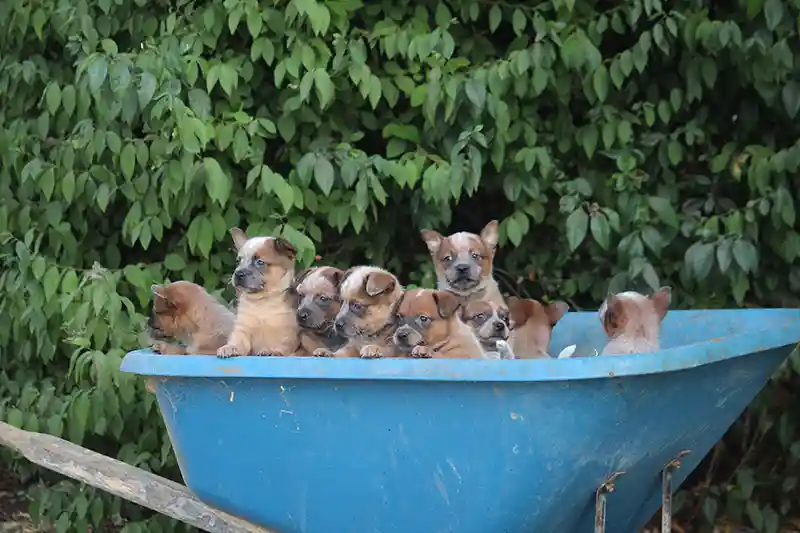 Check out our adorable Mini Blue Heeler pups looking for a great home!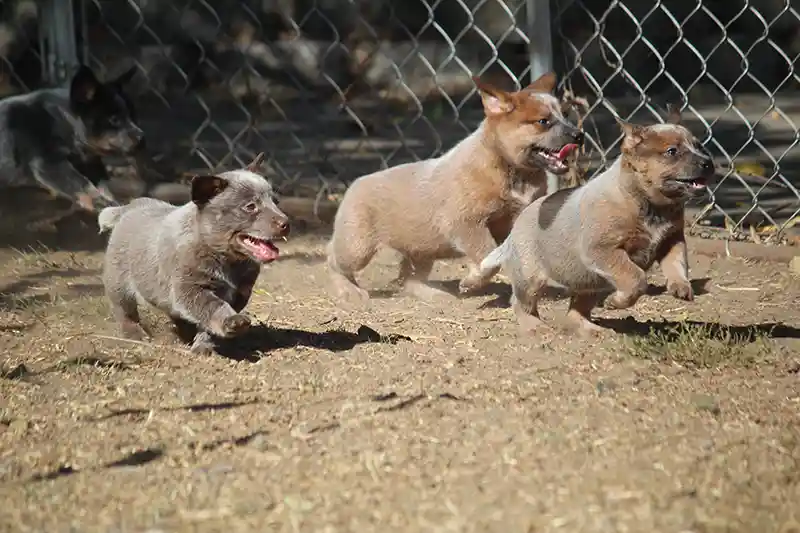 Learn more about this wonderful breed and how it will fit into your family lifestyle!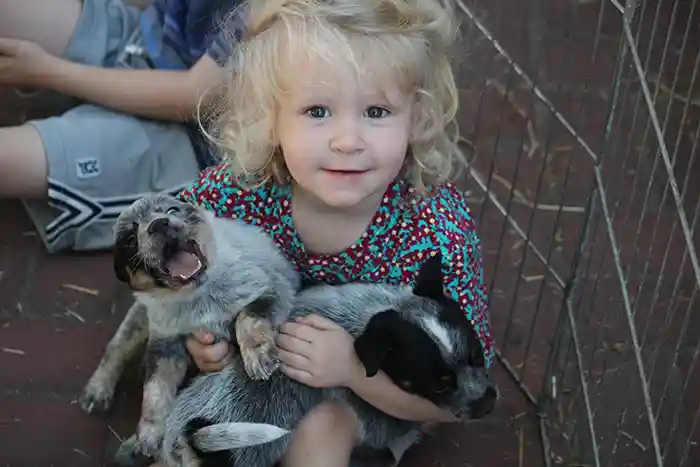 Mini Blue Heelers are adorable as puppies and fully grown. See for yourself!
About EFR Mini Heelers
As an ethical Australian Cattle Dog breeder, we focus on using the considerable power all breeders have to ensure our puppies are healthy and a pleasure to own.
We're located in Santa Rosa, California in the heart of wine country where healthy living is just a way of life. And that goes for our Blue Heeler puppies as well!
Our Blue Heeler pups are family raised so they will fit in beautifully with your family
They are never inbred, so are very unlikely to develop genetic illness
All our puppies come with a Lifetime Money-Back Health Guarantee against serious genetic illness!
They are personality tested and matched to your family so it's a perfect match for you.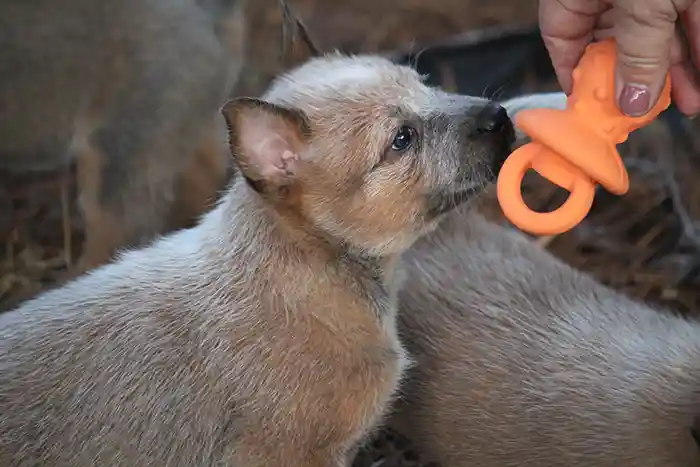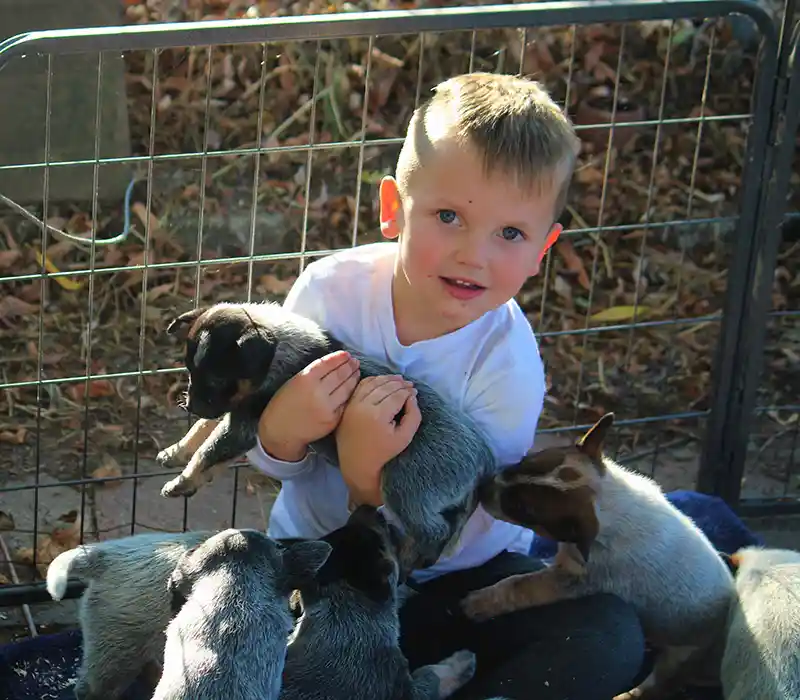 Blue Heelers – An Excellent Family Dog
The Blue Heeler is a wonderful, highly intelligent and energetic breed that is best suited for active owners who have the time and energy to provide them with plenty of exercise and mental stimulation.
They make ideal family pets for those who live in the country with lots of property, but they can also do well in a large, fenced yard in town.
With the right training and care, a Blue Heeler will be a loving, loyal and ultimate companion.
History of the Blue Heeler
The Blue Heeler (Australian Cattle Dog) originated in Australia in the 19th century. In the early days of cattle ranching in Australia, cattle were often difficult to control and keep together and the farmers needed a dog that could herd and control the cattle. They needed a sturdy dog that could work independently and for many long, hard hours. This led ranchers to develop a new breed of dog that was specifically designed to help them manage their herds and work over rough terrain for long hours.
The Blue Heeler is the result of this effort and is a mix of several different breeds, believed to be the Scottish Blue Merle Collie, the Smithfield and the Dingo, a wild dog native to Australia.  According to the American Kennel Club, Dalmatians, as well as the black and tan kelpie also helped create the Blue Heeler breed. The Dalmatian influx may explain why Queensland Heeler puppies are born white.